Rescreens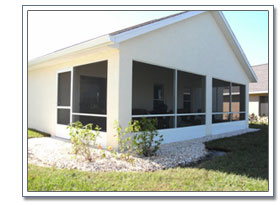 Screen enclosures are wonderful but eventually they will be in need of repair. You can trust us at Rob's K-Bear Aluminum, Inc. to do the job affordably and to your specifications.
Whether it be replacing only one screen or rescreening the whole enclosure, we will be with you every step of the way, helping you choose the materials and options available.
Why should you come to us for your rescreens!
We have over 30 years of experience in Volusia County
We use top quality materials instead of cutting corners
We are a service oriented facility and stand behind every job
Each project is supervised by a project coordinator, working closely with you to ensure it is done to your specifications
Our screens are top quality and last from 8 to 10 years
Rob himself oversees each and every project, making sure no detail is left undone
From Ormond Beach, down the coast to Oak Hill, we have been doing rescreens in homes and businesses everywhere. We use only the highest quality screens possible, ensuring long lasting protection of 8-10 years. Don't forget to check out our screen rooms, built with top quality hardware and meeting or exceeding Florida building codes. Contact us today for a free estimate.
---
Serving Volusia County including Daytona Beach, Daytona Beach Shores, Edgewater, Holly Hill, New Smyrna Beach, Oak Hill, Ormond Beach, Ponce Inlet, Port Orange, and South Daytona.
Florida State Certified License Number SCC056687