History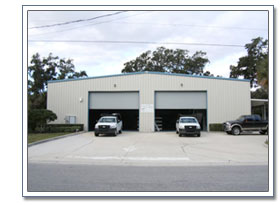 Rob Berge has been in the construction industry for over 30 years, rising very quickly from floor sweeper to District Manager of the company he first started with. When the company closed he decided to start his own business. With over 30 years of experience in Volusia County, the company is a success largely due to his passion and attention to detail.
Rob stresses that his company is service oriented and the many years in business have shown just that. When the job is finished, the relationship goes on – Rob will be there for you, no matter what. Rob personally manages each and every job so you can be confident that your project will be done right.
Employing eleven people, Rob's K-Bear Aluminum, Inc. is a survivor of many bad economies for good reason. Using only high quality hardware and products, Rob doesn't scrimp when it comes to doing the job right – no prefabs for this company! We can proudly boast that there has never been a complaint lodged against us in our vast years of service. In addition, Rob carries one million dollars of liability and one million dollars of workman's comp on every employee.
A family man, Rob is community oriented, giving back to numerous charities and spending his time helping when he is able. He believes strongly in supporting the community that supports him.
Visit our accessible warehouse in Port Orange to get a feeling for the quality of the products available to you, or contact us today for a free estimate. We're looking forward to a lasting relationship with you!